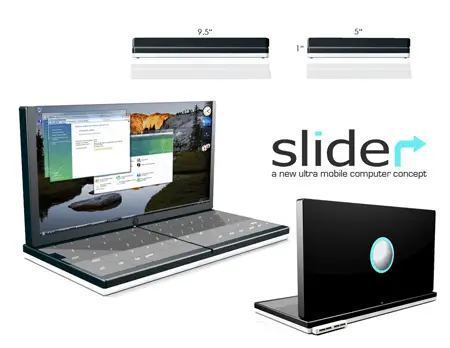 With the advancement of science and technology, we often get a chance to be shocked and stunned to learn about innovative gadgets and gizmos. Slider ultra mobile computer concept that will easily fit in your pocket is an example of one such innovation. Slider is a pocket friendly innovation. Its 9-inch OLED sleek touchscreen display and its elegant QWERTY keyboard make this slender device tempting. The QWERTY keyboard becomes visible after flipping the screen.
Slider's 1.5 GHz processor and 1GB RAM do wonder by making mobile video streaming and VOIP video chatting an extremely seamless procedure. Posting a new blog post and publishing it on your blog can be done smoothly, thus making your blogging experience trouble free. Managing your mailbox and being in touch with the world is highly comfortable with Slider ultra mobile computer concept.
The main idea behind this mobile technology is to enable user to use it as a touchscreen 9-inch tablet or an ultra pc by revealing its hidden keyboard. Other features that make Slider appealing are its 80 GB hard disk, 4 USB ports, Wi-Fi internet with sidebars and Bluetooth. Slider is flexible as it allows a user to type either with the help of scroll bars on the screen or with the fully functional keyboard.
Its touchscreen phone mode and video phone option make it valuable. While operating one particular function of Slider ultra mobile notebook it checks other pending tasks regarding to that function. For example, if you are chatting with your friend, you will get notifications to check pending mails from that friend.
To discuss its disadvantages, its motherboard and hard drive are situated in its upper part, thus resulting in dependable core that conveys data from the screen. Its battery life suffers due to its ultra shape restraining it to 4-7 hours. Apart from its drawbacks, it is a great thing to earn Slider ultra mobile computer concept. Go for it!
Source:
Future Technology